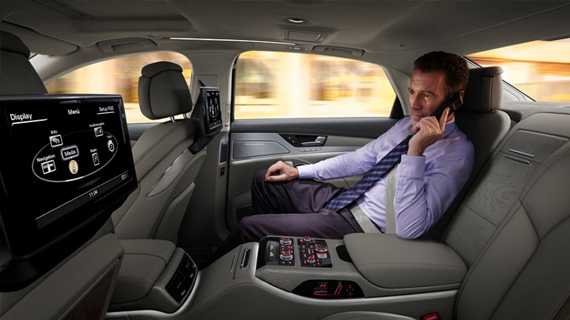 Project Description
Houston Corporate Limo Services
Houston Corporate Limo Services provides the best Executive and Business transportation in the Houston area.  We will find the perfect match for you in any of our comfortable & safe vehicles, including our Luxury sedans, SUV's, Limousines, and Buses with punctual and professional drivers.  Fill out a quote and don't hesitate to ask questions so that we can find the best fit for you.
Houston Corporate Limousine Rentals
Houston Corporate Limousine Rentals matches you with the perfect transportation vehicles with the right services you need.  Enjoy the Black Car Service, and Chauffeur that every Corporate Limousine Rental comes with.  Executive Mercedes Sprinter Vans are also available for those on-the-go business meetings.  Courteous and professional drivers come standard with all Houston Corporate Limo Rentals.
Houston Corporate Bus Rentals
Working with top-level Companies and Executives over so many years, we have fine-tuned our Houston Corporate Bus Rentals.  Options like, Limo Bus Transportation or Plush leather Shuttle Bus seating. Business and Corporate Charter Buses available for your next company corporate transportation or company.  Don't hesitate to ask one of our professional service representatives questions so we can find the best fit for you and your group.
Houston Corporate Limousine Services
Houston Corporate Limo Service Rates
Houston Corporate Limo Service Rates and pricing can be easily determined using our simple software that generates an instant price for multiple companies that you can choose from. Some companies do one way also know as a point to point. Other do round trips or 2-way transfers, multiple stops are typically covered under hourly but sometimes can be hybrid. Hybrid pricing is when you use a limo for a transfer and then hourly. This happens sometimes when at weddings when the client needs a limousine for 3 hours and then only need a one-way transfer 5 hours later for example. So companies have minimum hours and some do not. Some charge fuel, tip, and tax included some do not and some do not require it. Airport transfers can be different due to licensing through the airport and varies per company.
Houston Corporate Services, Executive Airport Transfers, Chauffeur, Travel, Events, tours, Weddings, Professional, Black Car, Valet Service, Sedan, SUV